How to Use Medical PPC to Grow Your Practice: 5 Tips for Doctors in 2020
If you asked 100 doctors if they wanted to grow their practice and get more patients, the vast majority would say yes.
But doctors have a big problem on their hands: attracting new patients to a practice is hard work.
There are tons of challenges to building a great practice:
Because of this, many healthcare providers turn to paid advertising campaigns to grow their practices.
Medical PPC is an effective way to attract more patients, fill your appointment schedule, and grow your practice.
But Pay-Per-Click advertising is still far too difficult for many doctors…and so they sit on the sidelines and let opportunities pass them by.
In this episode of the Medical Marketing Podcast, we'll explore 5 tips that will help you use medical PPC to grow your practice in 2020 and beyond.
What is PPC advertising?
"Pay Per Click" (PPC) advertising is a system designed to drive traffic to websites and promote products through an auction process.
In the PPC system, advertisers bid on how much they are willing to pay for a click from a user.
When a user clicks on an ad, the winning advertiser is charged a certain amount for the click. That's why it's called "Pay Per Click" advertising. If that user then goes on to request more information about a product or a service, the business can calculate their cost per acquisition and know if their marketing campaigns are profitable or not.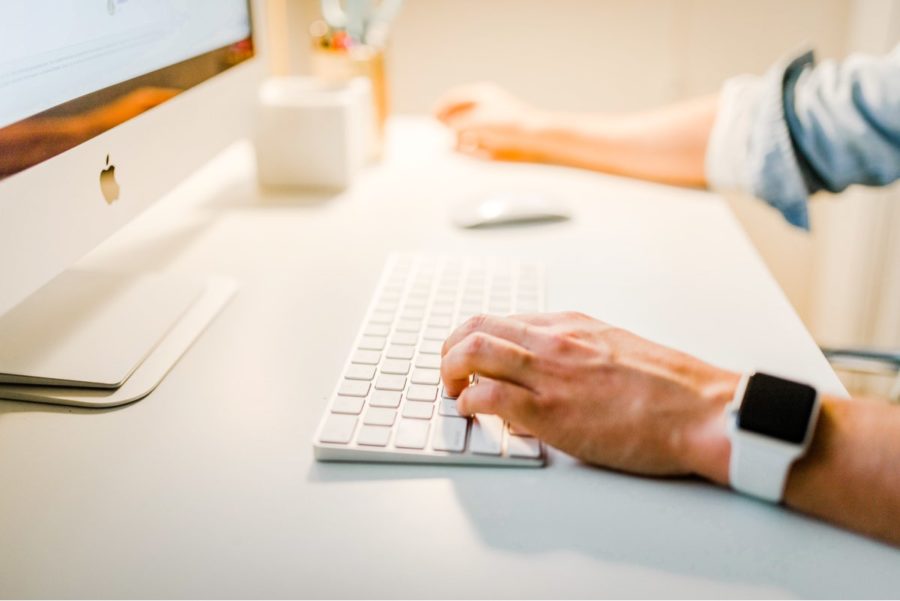 As of 2018, Google Adwords made up 71% of Google's total revenue – and that number is growing. PPC advertising is the primary way that search engines like Google make their money.
You might hear people call PPC "Search Engine Marketing" sometimes – the two terms are often used interchangeably.
Paid search campaigns show above organic search results. We know from SEO that the higher a result is on Google, the more patients will click on it.
PPC advertising is a quick way to essentially "buy" the #1 spot on Google.
How does PPC work in healthcare?
So that's a bit about what Pay Per Click advertising is. But what about medical PPC?
While the fundamentals of medical PPC remain the same, there are some key differences. Because patients' health and well-being are on the line, healthcare ads face more rules and regulations, including:
Rules on language that can and cannot be used in ads

Regulations regarding HIPAA compliance

Rules that prohibit remarketing for healthcare-related products and services

Greater local competition, which drives up Cost Per Click
Despite these regulations and stiff competition, paid search campaigns continue to be quite profitable for medical practices.
More than 8 out of 10 patients turn to Google as their first step in selecting a doctor.
Medical PPC ads are the best way to vault your practice to that #1 spot.
What's more, actively managed digital marketing campaigns can reduce costs by up to 40%. If you want to do medical PPC right, it's essential to find a healthcare marketing agency who offers Google Ads management and can actively manage your PPC ads to ensure your campaigns are achieving peak performance.
Why are medical PPC campaigns important for doctors in private practice?
Private practices depend on a steady pipeline of new patients to grow. Search engine marketing campaigns are one of the best ways to fill that pipeline.
Remember, Google is the primary way that most practices get new patient leads. If a practice's website isn't on Page One of Google, they probably won't be found.
Search Engine Optimization (SEO) is one of the best ways to get your practice to rank higher on Google, but it can take a long time. Many smaller practices don't have the time or manpower to give healthcare SEO the effort and attention it needs.
Bottom line? If you need patients fast, paid search campaigns are the best way to get them.
In fact, we have seen PPC healthcare ads begin delivering patients to medical practices within a few hours of taking their campaigns live.
Another benefit of Medical PPC is that it's a great way to outrank your competitors. As long as you have the money to spend on ads, PPC is the best way to augment lower search engine results until your practice's healthcare SEO is stronger.
But that begs a question that many doctors and marketing managers ask:
Which is better, PPC or SEO?
Which is better: PPC or SEO?
There's a long-standing debate among doctors and healthcare marketing managers: which is better way to get new patients, PPC or SEO?
This is a complicated question. It depends on your practice's situation, financial resources, and growth goals.
PPC and SEO are both very valuable ways of reaching new patients and growing your practice, but they're good for different reasons.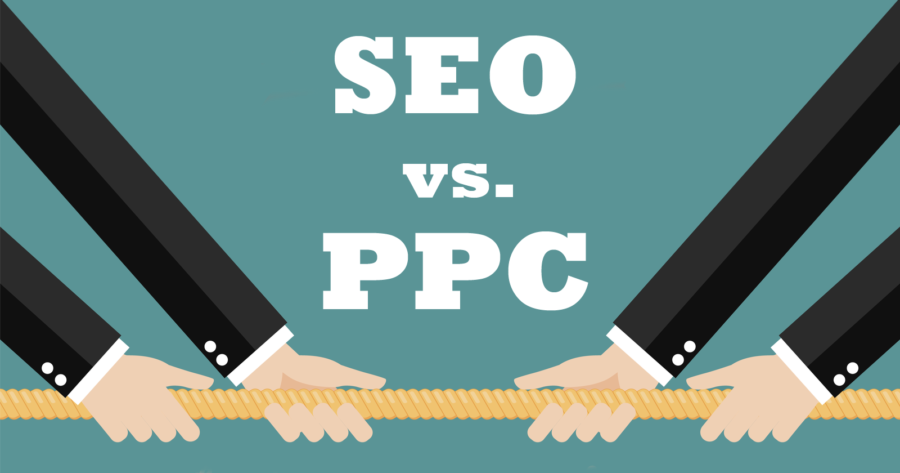 Let's break this down a little:
In terms of difficulty, SEO is hard. It can take a lot of time to begin ranking for key terms. Medical PPC, on the other hand, is fairly easy: all you have to do is set up a campaign, add some keywords, and sit back and watch the results come in.
In terms of effort, SEO demands a lot. Your practice needs to be creating lots of content, sharing it on social media platforms, and optimizing everything for your target keywords. There's no denying that it's a time- and effort-intensive task.
PPC, on the other hand, doesn't take nearly as much time. Once your campaigns are set up, all you need is some weekly monitoring and optimizations to fine-tune your campaigns and get better results.
But then we arrive at cost. A strategic healthcare SEO campaign isn't free – it does take a certain level of investment to do it well – but once you've achieved great rankings in search results, they can keep delivering patients for years to come.
On the other hand, medical PPC requires constant ad spend to see results: as soon as you turn off the faucet of money you're spending on your campaigns, the results stop coming in…and your competitors begin to steal leads that could have been yours.
Not only that, but competition can drive Cost Per Clicks way up. If you can't find a way to compete and keep your metrics within range, medical PPC could quickly become too expensive and turn your ROI negative.
So, which is better for healthcare: PPC or SEO? It's really hard to say.
For a small medical practice who has a bit of money to spend and need patients right away, we generally recommend starting with PPC ads. This can help attract patients to your practice right away while you work on improving your SEO over time.
For larger practices with a more established presence, we recommend a mix of both PPC and SEO. Larger practices generally have a longer time horizon, so they can afford to focus less on instant results in order to build up the strategic advantage that SEO offers.
| | SEO | PPC |
| --- | --- | --- |
| Difficulty | 😡 Difficult | 😄 Easy |
| Effort and Time Required | 🕓🕓🕓 Time-Intensive | 🕓🕓 Weekly Monitoring |
| Cost | 💰💰 Some Investment | 💰💰💰 Constant Ad Spend |
How your medical practice can start using PPC: 5 tips
If you want to implement PPC medical ads into your practice's digital marketing, here are five tips that can help improve performance and deliver more patients from Google Search:
#1: Make sure your website and landing pages are mobile-friendly
Patient experience isn't confined to the four walls of your practice: it happens online, too.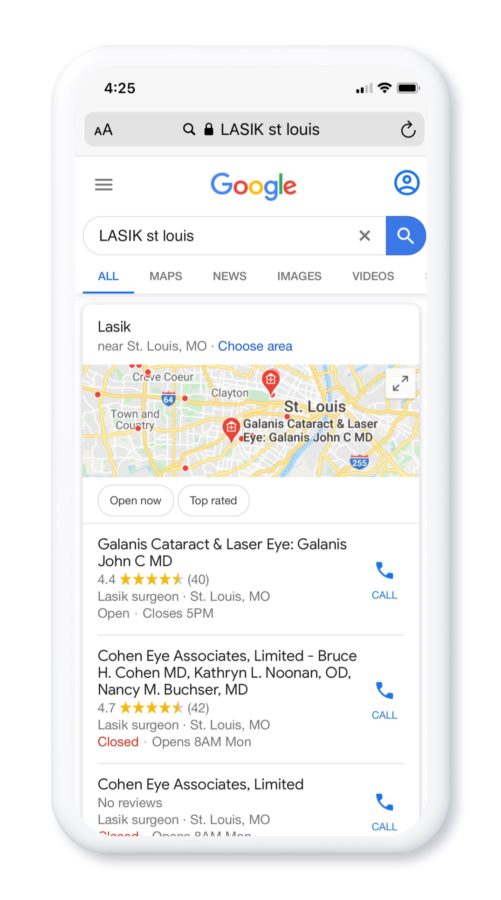 If you don't deliver an exceptional online experience, website visitors won't become your patients – it's as simple as that.
More than half of all search traffic in 2020 comes from mobile devices, so there's a greater than 50% chance that patients who click on your ads are using their phone.
Because of this, your website needs to be in tip-top shape for mobile devices.
Take a look at your practice website and ask yourself the following questions:
Does your practice website load quickly on mobile devices?

Is the website easy to navigate, or do you have to "pinch to zoom" just to read content?

Is information easy to find on a phone?

Are there clear calls to action?

Can a patient easily submit a form or place a phone call from your mobile website?
This is far from an exhaustive list, but Google – and patients – want a website that is easy to navigate and interact with. Optimizing your website for mobile devices is a practice that will pay dividends across all channels of your digital marketing.
#2: Do Audience Persona Research
If you want your medical PPC campaigns to deliver, you need to know who you're targeting.
Don't just assume that you know what patients are searching for – actually ask them! Conduct interviews with patients to figure out…
What they were searching for

Why they were looking for that particular product, service, or procedure

What their concerns are about that product, service, or procedure

What they hope to accomplish by choosing you

Why they chose your practice
This is called persona research. By having a clearly-identified persona in mind when creating your PPC campaigns, you will be able to select the right keywords and create compelling ad copy that causes patients to convert.
And persona research isn't just useful for PPC, either: it can be used across all channels of your digital marketing, like social media, content creation, and Search Engine Optimization campaigns.
#3: Keep an eye on your competition
Creating a high-performing medical PPC campaign means keeping an eye on your local competition.
There are a few metrics of paid search campaigns that practices often overlook. These metrics can help you understand how your search ads stack up against the ads of your competitors.
Using Google's Auction Insights Tool can help you see how you rank against the competition:
Are your ads being seen?

How often are your ads at the top of the page?

How often are you losing impressions due to poor ad rank or insufficient budgets?
By using the Auction Insights Tool, your practice can keep an eye on the competition and make adjustments to your ad campaigns as necessary.
#4: Don't Forget About Phone Calls
Many practices who run PPC campaigns forget about phone calls.
Yes, PPC campaigns are primarily focused on clickable ads…but remember what we said earlier about high search volume on mobile devices? That's where Call Ads come in.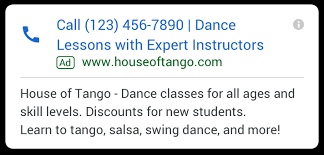 Call Ads (previously "Call Only" ads) only appear in search results when a patient is browsing on a mobile phone. Rather than needing to click through to a website, skim through content, and fill out a form, Call Ads place a phone call to the practice immediately.
Call Ads are a great way to get higher call volumes of patients wanting to book an appointment. They're a quick and convenient way for patients to book an appointment with a practice – and an easy way for doctors to fill their appointment schedule.
If you're not using Call Ads in your campaigns, you're missing out on opportunities for more patients.
#5: Target Your Geographic Market with Search and Display Ads
One of the biggest mistakes practices make with their PPC campaigns is forgetting to set geographic targeting.
A practice may bid on a term like "LASIK near me"…but if the practice is in New York and the searcher is in Minneapolis, there's no chance that person is becoming a patient.
Not setting geographic targeting parameters on campaigns leads to missed opportunities, wasted ad spend, and bad ROI. Setting parameters to only target patients within your region is a quick and easy way to improve PPC campaign performance. with both your search and display ads.
So that's it – hopefully these tips help you to optimize your practice's PPC campaigns. If you want a personalized audit of your Pay Per Click campaigns, reach out to our team – we'd be happy to help you uncover tangible opportunities to improve performance, boost ROI, and attract new patients to your practice.
Next week…
Well, that's all for this week's episode of the Medical Marketing Podcast – thanks for listening.

Whether you're new to the show or have been listening for a long time, check out our website at www.messenger.md. We've got tons of resources to help improve your practice marketing, grow revenue, and take patient experience to the next level.
That's all for today's episode – I'm Crawford Ifland. See you next week.