More and more physicians are beginning to understand the power of the Internet to connect and engage with current and potential patients, but too often, websites are still out of date or difficult to navigate, frustrating the user and forcing them to abandon their search.
Want to make the most out of every online visit? Here are 10 things your website must have.
---
1. Responsive design
Responsive design is a fairly recent phenomena on the web, starting with the advent of the iPhone in 2007. Because our mobile devices (iPhones, iPads, Android devices, Kindles, etc) have so many screen sizes, it's hard to predict exactly how a website will appear.
The old method was to use "pinching" and "zooming" to enlarge the content and make it readable. The new method is responsive design, which causes the elements on a website to rearrange depending on the size of the screen on which they are being displayed. Think of the content of a website like water – it adapts to fill the entire space that it is placed in. By utilizing responsive design, the end-user is afforded a much better experience: they no longer need to pinch or zoom to read text on a page, or fumble around trying to find the information they're looking for.
But responsive design isn't just for users – it's good business practice as well, and will be a major contributing factor to good SEO. Google's most recent search algorithm update actually penalizes websites that do not utilize responsive, mobile-friendly design, so having a responsive website is a must.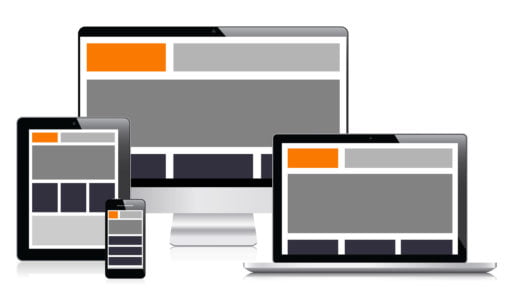 2. Clear calls-to-action
Ok, great: your users have found your website. But what are they supposed to do next? Clear calls-to-action on every page make it easier to direct users towards the business objectives and goals you want them to achieve. For example, if you primarily book appointments over the phone, having a large button on every page (in the footer, for instance) that features your phone number (and will even call your office if pressed on a mobile device) will lead to more calls and more appointments.
However, keep it simple: one call-to-action per page is best. Too many calls-to-action can be confusing to the user, and can actually hinder your goals rather than help you achieve them.
3. Clear Contact and Location Information
Many users will stumble upon your website either looking for a phone number, an email address, or the location of your practice so that they can schedule a visit. But if it isn't easy for them to find, many users are likely to get frustrated and abandon their search.
Not only should you have a page dedicated to contact information, but linking to email addresses, phone numbers, and physical addresses in the footer of your website and in paragraphs of text (where appropriate) can help your users locate their information they need.
4. Custom photography
If you want to connect with current and potential patients, authenticity is key. Using stock photography is a big no-no if you're trying to be authentic. Photos of doctors and patients smiling with a plain white background isn't just fake – it's boring.
Patients will engage with your story if you can show the real story of your practice – real doctors, real patients, your real office, etc. While buying stock photography may seem like the affordable alternative, you are bound to see a greater return on the investment of authentic, custom photography.
5. A "Contact Us" or "Schedule an Appointment" Button
We've already covered call-to-action buttons, but these are some of the most common types physicians may use, and they are becoming loved by patients. In fact, 73% of patients said they would welcome online tools to easily make an appointment or ask a question.

When patients can easily schedule an appointment online or contact the practice and talk to a real human being, they are able to get on with the rest of their day. If you are able to provide this service to your patients, they will love you for it.
6. Patient testimonials
There are few things more powerful than a personal recommendation. People turn to the trusted recommendations of friends and objective third parties when buying the most trivial items online; when choosing something as life-changing as ophthalmic surgery, patient testimonials can go a long way.
Try having a dedicated page for patient testimonials as well as implementing them throughout your website, as pull quotes on your blog, and in any graphical elements that are applicable to the story you are trying to tell. The more positive touchpoints a potential patient can have with your practice, the better.
7. A promotional video
We are far more likely to watch a video than to read large paragraphs of text. Having a promotional video on your homepage (and throughout the site) is a great way to draw potential patients in and familiarize them with your practice and your physicians.
Video is also great for spreading the word about your practice as well. In fact, the average Internet user spends 88% more time on a website with video, and 92% of mobile video viewers share videos with others.
Related: Why every practice needs a promotional video
8. Personal physician bios
Especially if you have more than one physician in your practice, there is a good chance that patients will stumble upon your website because they have Googled the name of one of your physicians. This is where a personal bio matters: patients want to know that they are in good hands, so many will read the physician's background, education, professional accomplishments, and more.
What's more, bios are bound to have the names of educational institutions, previous places of employment, professional accomplishments, and more, which can be quite helpful for SEO purposes. Users may Google the name of a physician in reference to a doctor's education or a published work, but the more users that find your website from a staff bio, the better.
9. Ways for patients to connect on social media
Let's face it: social media is here to stay, and people are finding new ways to connect online each and every day. Having a professional presence on the most popular social media platforms is expected, but if users can't easily find you on social media, they likely won't connect, which means your practice has missed a touchpoint, another opportunity to engage.
Prominently featuring the social media channels on which your practice has a presence can be quite useful, but keep in mind two things: don't go overboard (Facebook, Twitter, and Yelp are probably good enough for you), and don't link to channels that you do not regularly update (current information is much better than last week's news).
10. Links to review sites
More and more, patients are turning to physician review sites such as HealthGrades, ZocDoc, and even Yelp to seek the opinions and reviews of others before making their choice. Linking to physician review sites can be quite helpful, as patients can more easily discover and engage before making their choice.
It is important to remember, though, that these sites are only helpful to your practice if you maintain good reviews, so if they aren't saying quite what you'd like for them to, it may be best to remove the links until your reviews improve.