When you're a practice administrator or a dedicated marketing manager, you may feel as though you're standing between your ophthalmologist or medical director and the design agency tasked with re-designing your ophthalmic practice website.
It's easy to feel like you're being pulled in two different directions: you're trying to convey the vision of the practice to the design agency, while on the other hand, you want to give the agency what they need to finish their work. It can be stressful!
If you're a practice administrator or marketing manager, there are several ways you can simplify the website design process for both yourself and the people you're working with.
1. Be Clear About the Vision Before You Start
Take the time to talk through the ophthalmologist or medical director's vision for the website redesign and what they expect it to accomplish. Make sure you understand exactly what your boss is wanting so that you will be better able to communicate it to the design agency when the time comes.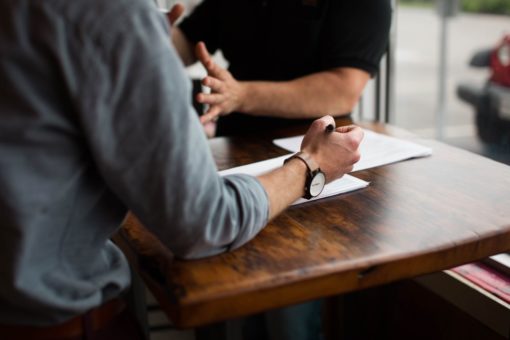 Sit down with your ophthalmologist or medical director and take notes about their vision for the site – this will help you communicate the vision to your web design agency
If you've chosen a good web design agency, they will ask plenty of questions about your vision for the site, including features, look and feel, and all the various ways patients could use the site…and if you've done your homework, you'll be able to answer these questions. The best way to make yourself valuable (both to your boss and the creative agency) is to be informed and "in the know."
2. Remember: Keep It Simple, Stupid
It's all too easy to get caught up in what the modern web has to offer, and when redesigning your practice website, it's very tempting to want to integrate every new feature, widget, and functionality. The creative agency loves this, as they may want to sell you on more features, which can make project cost balloon quickly.
But if you want to make the process a success for everyone, remember to keep it simple. Research shows that when confronted with several options, patients are far less likey to make a choice…so keep your website simple and straightforward. By doing so, you can create a website that attracts patients with its simplicity.
Make sure you know the answers to these questions:
What information really needs to be on the homepage? This includes vital contact information, information about exactly what your practice does, and any special services you offer, etc.
What images are relevant to your website? What tone do you want to create for your patients?
The Ultimate Guide to Ophthalmic Website Design
In this guide, we'll teach you proven techniques and strategies designed to increase traffic and lead to more patients.
Get the Guide
3. Understand Your Brand
Your practice's brand should define your new website, not the other way around.
When you fully understand your brand, you can better integrate it with the website redesign process. Not only that, you'll be better able to communicate it to the creative agency. This includes important concepts, questions, and high-level ideas like these:
What sets your practice apart? Is there one procedure or service in particular that your practice specializes in?
Is there one particular demographic you really want to target?
How can you integrate your logo and color scheme into your website in a way that markets to your that audience?
Begin with the end in mind: what is your primary "call to action"? What should patients do next?
How does your current website convey your brand? What things do you want to keep? What things should you get rid of?
4. Choose Your Metrics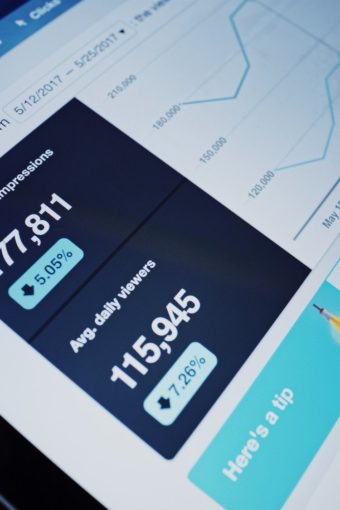 If you want your new ophthalmic practice website to be a success, you have to measure the results. Choose key metrics ahead of time, and be prepared to track how your new website is helping you accomplish your goals
You don't just have a website because you're expected to have one in today's highly digital society. Your website must exist to accomplish a specific purpose. Make sure that you've defined that purpose in writing before you sit down with the web design agency. Then, discuss what metrics will be used in order to measure that progress. This may include tracking the number of visitors to your site, measuring visits as a result of specific keywords, or determining your local search engine ranking.
Keep in mind that for your practice, the goal isn't just to bring in new patients – it's also to better serve your current patients. Before you begin your website redesign, reach out to some current patients to identify their "pain points" about their visit. Was your website hard to navigate? How easy was it to book an appointment? Were they encourage to leave an online review of their experience?
Taking the time to interview past patients will give you very tangible items to discuss with your web design agency.
What's more, your medical director may not have any idea of what metrics they want to track – so offering suggestions on how to track key metrics and improve patient experience may just earn you brownie points in their eyes.
Keep calm…
Your ophthalmic practice website redesign doesn't have to be a stressful process. The goal is to make it a smooth, easy journey that leads to a brand new website that serves both your practice and your patients alike.
If you want to delight your ophthalmologist and make the most of your website redesign, a keen understanding of what you want to accomplish, how to measure it, and what vision everyone has in mind is the best way to keep the process moving smoothly.