Leveraging the Power of Physician Review Sites
The age of the Internet has brought about online reviews for just about everything – products bought on Amazon, restaurants, bars, professional services, and of course, medical practices. By the democratization of the review process, patients no longer need to rely on word of mouth or a family history – they can just go online.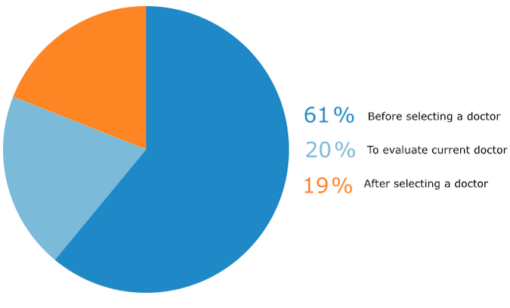 However, because so many patients are searching online before they ever come in for a visit, physicians need to pay careful attention to what their patients are saying about them, from the cleanliness of the office to the actual care they received.
Managed properly, online physician review sites can be an incredible boon to any ophthalmic practice. Here are some pointers on how to make the most out of physician review sites and make them beneficial to your business:
Encourage patients to post reviews online
Many physicians get scared when it comes to review sites: what if a patient is unhappy with their experience? What if somebody says something bad about my practice? While this is certainly a valid concern, it puts the focus in the wrong place. If a physician is scared of what patients may say online, they will not encourage patients to post their honest opinion and feedback, and nothing will improve.
While it may seem scary at first, doing the opposite actually helps create a culture of honesty, authenticity, and respect, and keeps all parties accountable for their behavior.

By encouraging patients to post their feedback online, doctors accomplish many things:
It helps doctors get real feedback. Some things are scary to say in person, and if a patient has a bad experience with their office visit, common courtesy may keep them from speaking their mind. While this may be the polite thing to do, it doesn't help the doctor improve the quality of care they give. By leveraging online reviews, patients can submit feedback and share their opinions while not creating enemies.
It helps doctors improve. If doctors don't know that patients are dissatisfied, there is no way for them to improve. However, when patients go online to discuss the care they received, doctors are able to discern
It educates other patients. Many potential patients are wary of trying a new doctor, especially when it comes to something as life-changing as cataract surgery. Especially if they don't know of anyone who has undergone such a surgery and is able to give them a recommendation, the Internet is a useful tool for garnering the opinions of others.
It rewards good behavior. The physicians that provide the best care will receive the best reviews and will stand apart from the crowd, and in turn be rewarded with more patient visits. It's a beneficial cycle.
Physicians may encourage patients to write a review online through email, follow up calls, post-surgery practice visits, and in marketing materials, advertisements, and through social media.
Contrary to popular belief, the age-old saying that "the customer is always right" isn't necessarily true.
Thank patients who post positive reviews
It often goes unnoticed, but physician review sites are a useful way to engage with patients online. Unlike engaging with potential patients on other social networks, review sites are a chance to engage with (and thank) existing patients with whom a relationship already exists. By being active on review sites and thanking patients who post positive reviews, new patients re able to see that you are engaged, active, and care about patients from the time they first come through your doors until well after their surgery.
Engage (and empathize) with patients who post negative reviews
Adequately responding to criticism can be tough; responding to criticism online can be incredibly tricky. When patients don't have the experience they were hoping for, the best practice is to show empathy and apologize for anything they found lacking. Defending yourself or our practice almost never works out well – even if you are in the right.
Contrary to popular belief, the age-old saying that "the customer is always right" isn't necessarily true. There are sometimes when the physician is right and acted appropriately, but you can't change the way people think or change what they say about you. While the customer may not always be right, the customer does always need to be heard. When they voice their opinions online, you have an opportunity to respond to their criticism with empathy and understanding. Who knows – your response may help new patients see your authenticity, and what was meant to be harmful actually may end up helping.
Best Practice: Create a profile on multiple sites
In terms of practical things you can do to improve your online presence and increase patients reviews is to be on each physician review platform. It's hard to guess where patients will go to write a review; they may end up Googling the name of your practice and write a review on the first website they come across. To help SEO when patients Google your name, it's important to be on a variety of physician review platforms. Here's the lowdown on each:
Yelp: while it is commonly used for reviewing restaurants and local businesses, it's actually the most popular online platform for physician reviews, according to HealthIT Consultant.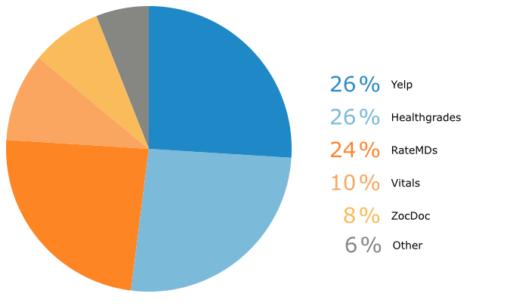 Healthgrades: along with Yelp, Healthgrades is the most trusted physician review site, and because it is so common, it will likely come up among the first search results.
RateMDs, Vitals, and ZocDoc: while these platforms are lesser-known and not as popular as Yelp and Healthgrades, they are still utilized, so it is important to have a presence on each of them.
At the end of the day, the patient is not always right, but the patient does always need to be heard. By utilizing the power of the Internet and physician review sites, ophthalmologists can manage their patients' experiences, reward good behavior, and leverage the power of physician reviews to boost their online presence and get more patients. 
---
Want to take your online presence to the next level?