How to Monitor Social Media in 10 Minutes a Day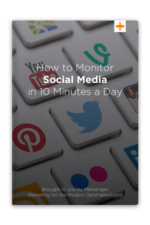 Overwhelmed by how much time social media takes? Wondering if it's really worth the investment?
This free eBook will help you monitor your essential social media networks in 10 minutes a day or less, so you can reclaim your life and focus on other things.
What You'll Learn:
Who Should Manage Your Social Media
How to Appropriately Respond to Criticism Online
How to Use Social Media to Grow Your Practice
Take your practice to the next level