4 Free Blog Post Templates
Jump-start your content creation.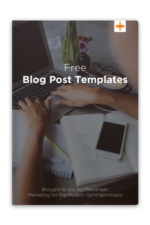 Thinking about starting a blog for your ophthalmic practice, but don't know where to start? These 4 free blog post templates will help jump-start your blog.
What You'll Learn:
How to Create a Compelling Headline
How to Optimize Posts for SEO
How to Outline Content
Covering How-To's, List-Based Posts, Curated Posts, and SlideShare Posts, these templates are sure to increase traffic and help kick off your content creation.
Take your practice to the next level