15 Pre-Written Sales & Marketing Emails
Make email manageable again.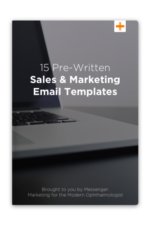 If it feels like you live in your inbox all day, well, you might be right.
According to a report by McKinsey Global Institute, workers spend 28% of the work week reading and responding to emails — that's almost a third of your working hours!
We've considered the types of emails marketers and salespeople are likely to send on a repeat basis, and crafted templates that can help eliminate that time.
Take your practice to the next level