What is SEO?
There's a lot of mystery surrounding SEO, especially in the medical industry.
"What is it?"
"Why does it matter?"
"If I use SEO, will I be #1 on Google?"
Put simply, Search Engine Optimization (SEO) is the process of optimizing your website to be found in the search engines for relevant keyword searches. It's not the mysterious black box many think it is – it's really just following a set of guidelines so that search engines (and real people) can easily find your website and other relevant information when they perform a search online.
If you want to be #1 when someone searches for cataract or LASIK surgery in your area, you'll need to be implementing some common SEO best practices. Here are a few actionable items to get you started:
1. Do Your Research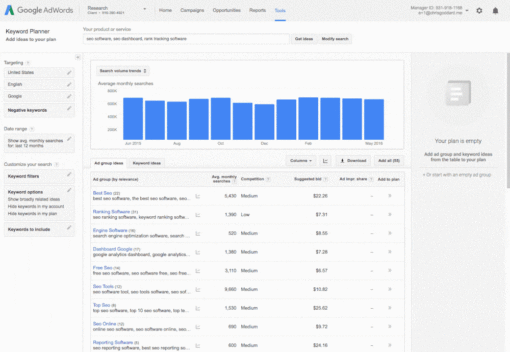 First and foremost, keyword research is one of the most important parts of a good SEO strategy. It's estimated that 89% of patients will begin their search for a healthcare provider online before taking action…so if you want to capture those opportunities, you need to have good keywords.
While keywords can seem like a simple thing, just throwing in a few words won't cut it. In order to have the best shot at being in top Google results, you'll need to do some keyword research.
Some keywords are more valuable than others – some are overused and very hard to rank for, while other keywords are hyper-specific and don't have a lot of competition. Ideally, you'll want to choose keywords that represent a mix. Obviously "LASIK" is going to have a bajillion results, but that doesn't mean you should exclude it.
More specific, long-tail keywords, like "LASIK for professional athletes" are likely to be less competitive, so if that's a demographic your practice caters to, by all means – include it! Use a tool like Google's Keyword Planner to determine the competition and opportunity for your specific keywords – it'll give you the greatest chance to pick the best keywords for your practice website and capitalize on them appropriately.
2. Make Sure You Have a Sitemap…and Make Sure It's Listed
Most people think of a sitemap like a website's directory…and they'd be correct!
The difference between sitemaps that you're used to seeing and sitemaps that rank for SEO is their format. A typical sitemap we're used to seeing or using typically has a list of all links on the website, but Google uses something called an "XML Sitemap."
An XML Sitemap is simply a computer-generated document that tells Google:
Which pages to index
Which pages are most important (and should be indexed first)
How frequently content changes (giving Google a reason to check back frequently)
An XML sitemap looks like this: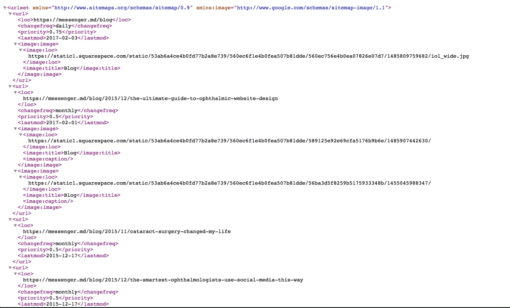 But having a sitemap isn't enough – you have to make sure Google knows where to find it! Using a tool like Google Search Console can make sure that Google knows where your sitemap is located, how frequently it changes, and which pages it should crawl.
3. Prioritize Content
Nothing is more attractive to Google than a site that is updated regularly, and that means content.
If you don't have a blog as part of your ophthalmic practice website, you should strongly consider adding one. But if you do, you have to keep it fresh. Adding one blog post or news item a month won't be enough to do it – in fact, Google sees that as a sign that it shouldn't check your website as often.
In order to get the best ROI for your efforts, create an editorial calendar with a goal of publishing 1-2 posts per week. Combined with some smart keyword planning, new content can not only drive more visitors to your website, but it will signal to Google that your site is active and worth checking up on more frequently.
More, regular, and better content means higher search results.
4. Metadata Matters
Metadata are the specific attributes of your website that Google uses to properly index your pages and content, namely keywords, descriptions, and alt-image tags.
We've already covered keywords, but descriptions are important, too. Be sure to write a detailed description of each page's contents in a tweet-length sentence (most search engines limit descriptions to 160 characters).

It's not enough to add keywords and descriptions for just your homepage – be sure to add relevant keywords and descriptions to each page of your site, and to blog posts, too. (It sounds obvious, but you'd be surprised how many ophthalmic practice websites we see that don't have keywords or a description at all!)
Alt-image tags and image titles are another great piece of metadata to add on your site. Originally intended for accessibility purposes for those with visual impairments, Google and other search engines use image titles and alt-tags to index what the image is of and display the image in relevant search results.
Some Content Management Systems will automatically name images for you, but all will let you rename images yourself. Think about it – an image that's titled fskdg83-55jgyad-43egsmg-9865fhsa-123.jpg isn't very descriptive. Try cataract-surgery-frequently-asked-questions.jpg instead – Google will love you for it.
5. Don't Neglect Social Media
If you've read any of our other posts, you'll know that we think every ophthalmologist should be on social media, but it's not just so you can connect with other physicians or tweet cat GIFs (no judgment).
Having relevant social media profiles that link to your website is a great strategy for improving your SEO (plus, it gives patients another way to connect with you – what's to lose?). Having social media profiles helps Google understand that you're a real business (with real people connected to you), and it establishes links to your website on more "authoritative" (read: bigger) websites like Facebook and Twitter.
6. Utilize Local SEO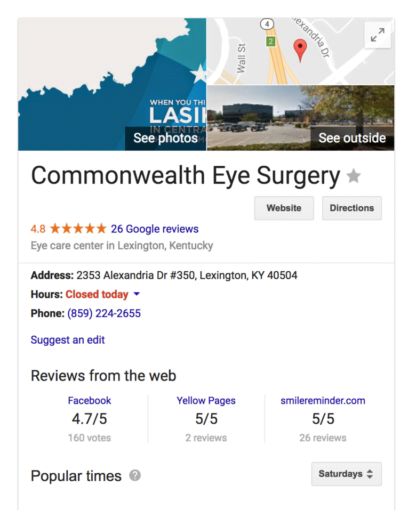 Local SEO is one of the most important tactics ophthalmologists and healthcare providers can use because in order for patients to make use of you, they have to come in for a visit.
Not only should you add your city and the surrounding area as a keyword on your website, but make sure your practice is listed on Google My Business. Be sure to update your hours, contact information, and services to your business page, and make sure it mirrors the information on your website – it's the best way to get listed in local results.
Don't neglect other and other online profiles like Yelp, Facebook, and physician review sites like Healthgrades and Vitals – they're important for establishing online authority and will do wonders to help your practice rank for SEO.
Now you know some actionable SEO strategies to implement into your practice website. Not sure where to start? Get a free SEO audit from our search specialists and receive an individualized report with detailed insights, recommendations, and actionable steps to improve your practice SEO today.