The Ultimate Guide to Ophthalmic Website Design
Take your practice to the next level.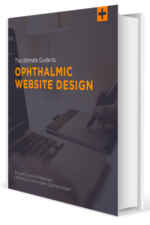 When it comes to marketing your medical practice online, it's often hard to know where to start. In this guide, we'll teach you proven techniques and strategies designed to increase traffic and lead to more patients.
What You'll Learn:
Why good design is so important in today's medical market
What SEO is, what it's not, and how you can use it wisely
The ins and outs of Social Media for physicians
All about website hosting, security, and compliance
Take your practice to the next level