Is your practice website converting?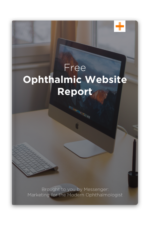 Your website might look beautiful, but is it serving your practice's needs? Are potential patients getting scared away because they can't find what they're looking for?
If questions like these keep you up at night, we're here to help. Our ophthalmic website specialists are here to coach you through the small changes that can make a huge difference for your business.
Get a free, individualized report with detailed insights, recommendations, and actionable steps to improve your practice website today.
Take your practice to the next level